Why We Exist – Our Mission
The PGC's mission is to create opportunities for traditional and contemporary artisans, craft enthusiasts, and collectors through education, advocacy, and community.
We believe that art is a vehicle for growth and education. We seek to grow awareness of fine craft and its many disciplines.

The PGC receives state arts funding support through a grant from the Pennsylvania Council on the Arts, a state agency funded by the Commonwealth of Pennsylvania.
Our History in Brief
Founded in 1944, the PGC was one of the first organizations to follow First Lady Eleanor Roosevelt's recommendation to find ways to transfer wartime skills to peacetime work. Since then, in addition to Fine Craft Fairs, the PGC and its state-wide chapters have hosted or sponsored social activities, juried exhibits, demonstrations, forums, studio visits, workshops, field trips, and operated a retail store focused on selling members' art. In 1961 the PGC was formally incorporated as a nonprofit organization to promote and encourage the craftsmen of Pennsylvania through educational projects. Today, the PGC's headquarters is located in Lancaster City, has members in over 30 states and is governed by a board of member artisans and community volunteers. Our artists include contemporary and traditional, and comprise many craft disciplines as well as fine art and photography.
---
Where We Are – Headquarters & Guild Store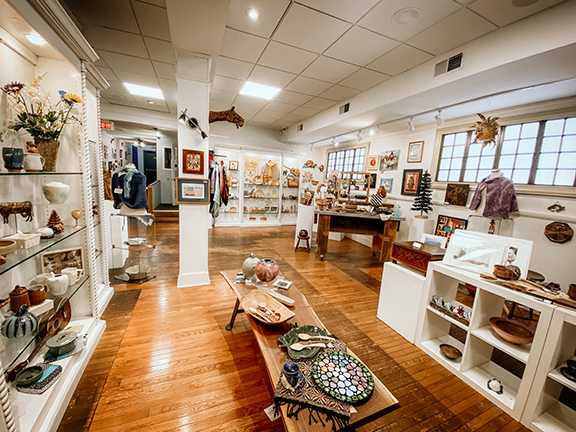 Our facility is located in Lancaster City on the popular "300 Block" of North Queen Street, amongst several women-run businesses. We are in the county seat of Lancaster County and about an hour's drive from our state capitol.
335 N. Queen St.
Lancaster, PA 17603
717.431.8706
---
What We Do
Since 1944, PGC has been bringing together our community through fine craft. We do so through our programs and events. The programs include: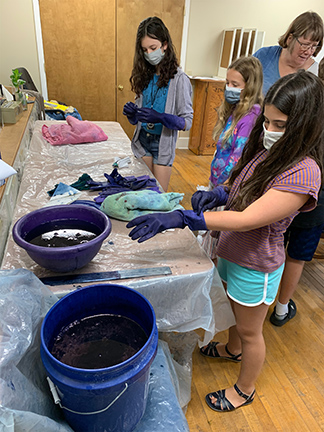 Educational Workshops, most of which are held at our facility in Lancaster City, and engage over 1,800 students annually. Increasingly, we engage a larger audience at workshops at offsite locations throughout Lancaster and Chester Counties, as well as a global audience with our online workshops.
Our Guild Store provides a retail outlet and professional opportunities for over 130 artists throughout PA and beyond.
Our Fine Craft as a Business program provides opportunities for mentorship and learning, professional development, and networking.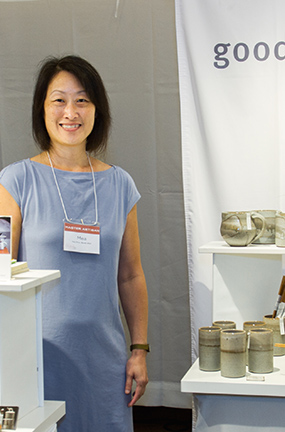 Our Master Artisan program provides professional development, feedback, recognition, and special opportunities. Master Artisan status recognizes artists in the Guild who exemplify our three benchmarks: Excellence in Craftsmanship, Resolved Design and Unique Voice or Faithful Representation of a Heritage Craft. To achieve this honor, members' work is juried by a panel of Master Artisans.
---
The PGC's Non-Discrimination Statement
To support a full creative life for all, the PGC is committed to non-discrimination in its principles and practices. It is the policy of the PGC to not discriminate against any individual on the basis of sex, gender, gender-identity, gender expression, race, color, national origin, religion, creed, age, disability, citizenship, marital or domestic partnership status, sexual orientation, economic circumstance, genetic predisposition, military or veteran status, or any other characteristic protected by federal, state or local law, rule or regulation.
---
The PGC's Diversity, Equity, and Inclusion Statement
The PGC firmly believes that everyone has a right to dignity, respect, and equality without fear. As an organization, we commit to continual listening, learning, inclusion, and subsequent growth. We will continue to work to empower people to use art as a means of expression, a way to build community, and a powerful voice for change.