Instructor: Mary Louise Ravese
Skill Level: Beginner to Intermediate
Cyanotype is a simple photographic printing process that creates an archival blue and white print. The cyanotype process was invented in the 1840s and is easy and inexpensive to do at home.
In this class, we'll use plant clippings or other items you bring from home, to make cyanotype photograms aka sun prints. Students with more experience will go beyond simple cyanotype photograms to experiment with some "embellishment" techniques using things like turmeric, salt, vinegar, and soap bubbles to add additional color and texture to the one-of-a-kind cyanotype pieces.
Mary Louise will explain how to make botanical "photograms" – direct contact prints of plants placed on sensitized cotton material and then exposed to sunlight. The developed print is then rinsed in a water bath and then left to dry. The final print will have a blue background and no color where the object touched the material or left a shadow on the material. So, this process is a great way to celebrate the shape of things.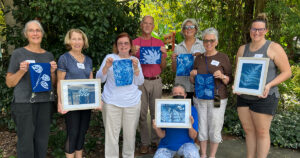 No camera is needed for this process!
The chemicals involved include ferric ammonium citrate, potassium ferricyanide, and hydrogen peroxide. They are safe to use, but care should always be taken to avoid ingestion, inhalation, and contact with skin.
Students should bring the following to class:
2 Gallons of distilled water
Garden shears
Found objects or plant clippings for making prints
Toothbrush and small / pastry-size brush for splattering
Bagged lunch
All other materials will be provided.
Please note that this class will take place at the Hattie Weselyk Studio at 113 Lutece Circle, Kennett Square, PA. The class will take place primarily outdoors with a rain date of Sunday, September 24 if there is rain forecasted for September 23.
Cancellation/Refund Policy: 
The Pennsylvania Guild of Craftsmen does not provide cash refunds for the cancellation of classes unless the class is canceled by the instructor or the Guild.
In order to request a withdrawal from a workshop, students must contact the Guild by phone at 717-431-8706 or contact us here at least 7 days prior to the class. Students who request a withdrawal at least 7 days prior to the class will receive a credit that can be used toward another workshop. No refunds or transfers will be given to cancellation requests made with less than 24 hours' notice of the class.
Please note that we are unable to provide refunds for missed classes due to personal scheduling conflicts. If you are sick with Covid-19 or believe that you may have been recently exposed, please email kelly@pacrafts.org.
To purchase a ticket at the member discounted rate, please login here.
Cyanotype Photograms - Photography Without a Camera


2023-09-23




9:00 am - 3:00 pm
We're sorry, but all tickets sales have ended because the event is expired.
Workshop Teachers
Mary Louise Ravese




Mary Louise Ravese specializes in nature and travel photography from locations across the world. In 2020 she was recognized as "Master Artisan in Fine Art Photography" by the Pennsylvania Guild of Craftsmen. Her photographs are in private, university, and corporate collections in over 40 states and are exhibited nationally. Mary Louise is an experienced photography instructor who has trained hundreds of amateur photographers. She enjoys teaching on a wide range of topics related to nature, travel, and creative photography. She leads classes and workshops at a variety of locations across the United States and abroad. For more information, visit her website at https://shop.bellavistaphotography.com.