Instructor:   Emily Smucker-Beidler
Skill Level: Beginner
Where did Fraktur artists find their inspiration for the fanciful birds we see in their art of the 1700's? In this workshop, participants will learn what birds were prevalent here in southeastern Pennsylvania and find connections through Fraktur images. Learn where the polka-dot, checkerboard and various striped patterns came from that we now enjoy in Fraktur. 
Then, participants will be shown some "tricks" to drawing their own fanciful birds in the Fraktur style, as well as adapting patterns from original, historic works using light boards. They will then complete a small, 5×7 Fraktur bird.  All materials are included, with enough to take home with you and continue creating once the workshop is over.
Supplies needed: Students will need to bring their own watercolor palette or Emily will have watercolor kits that can be purchased from the instructor for $20. All other materials are included in the tuition.
About Fraktur:
Fraktur was created by Pennsylvania Germans during the eighteenth through the mid nineteenth centuries and features calligraphic text decorated with colorful birds, hearts and flowers.  The tradition has its roots in the illuminated manuscripts of medieval Europe but evolved into a distinctive part of the local Pennsylvania German culture. Today, those who appreciate this colorful folk art enjoy drawing their own fraktur designs based on the work of the early fraktur artists.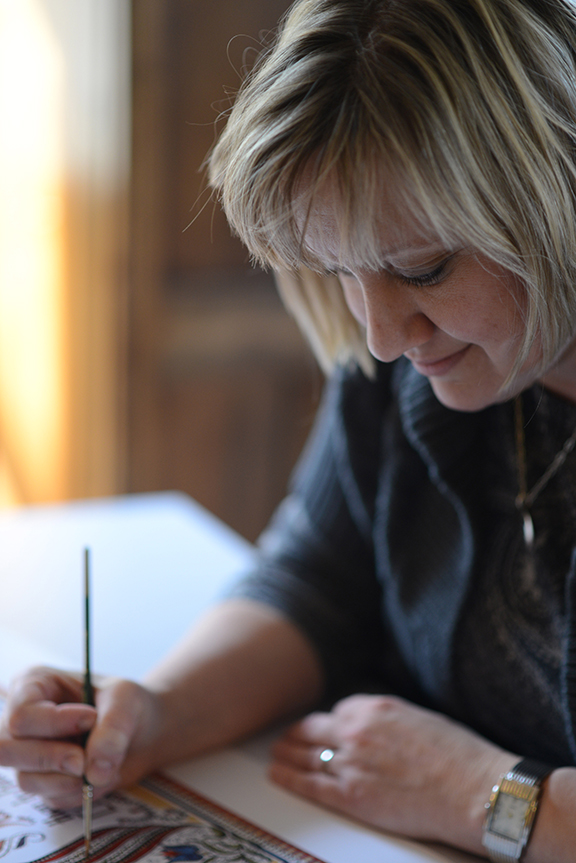 About the Instructor: Ever since sixth grade, Emily Smucker-Beidler has been creating Fraktur after learning from Roma Ruth, a well respected Fraktur Artist from Montgomery County, PA.  After receiving an Art Education degree and Master's degree in Art Education, Emily has made her 29 year career in teaching art her passion, while continuing to create custom Fraktur for hundreds of clients.  She brings her experience and enthusiasm for teaching to her Fraktur workshops and welcomes artists of all ages and ability levels.
Creating a covid-safe environment: room set up with 2 people per 6 or 8 foot table, ensuring that each person has a 3 foot bubble around them (as per CDC guidelines for classrooms.) An additional table at the front for demonstrations and presentations, 6 feet away from students. Emily will remain masked unless presenting from table, (as per CDC. guidelines.)  All demonstrations will be projected on the screen so that participants can watch from their seats or come closer, depending on their comfort level. Sharing supplies will be at a bare minimum, with hand sanitizer available for use.
Cancellation/Refund Policy: 
The Pennsylvania Guild of Craftsmen does not provide cash refunds for the cancellation of classes unless the class is canceled by the instructor or the Guild.
In order to request a withdrawal from a workshop, students must contact the Guild by phone at 717-431-8706 or contact us here at least 7 days prior to the class. Students who request a withdrawal at least 7 days prior to the class will receive a credit that can be used toward another workshop.
Please note that we are unable to provide refunds for missed classes due to personal scheduling conflicts. If you are sick with Covid-19 or believe that you may have been recently exposed, please email kelly@pacrafts.org.
To purchase a ticket at the member discounted rate, please login here.
Fanciful Fraktur Birds


2022-10-01




10:00 am - 1:00 pm
We're sorry, but all ticket sales have ended.
Venue Phone: 717-431-8706
Venue Website: www.pacrafts.org
Address:
335 N Queen St
,
Lancaster
,
Pennsylvania
,
17603
,
United States