Instructor: Beth deVitry
Skill Level: Beginner
Create a silver cloisonné enamel pendant. Students will learn to form wires into a design, fill them with layers of wet leaded enamel, and fire them in a kiln. Many layers of enamel will create a beautiful luminous piece of jewelry. Each student will leave with a finished pendant.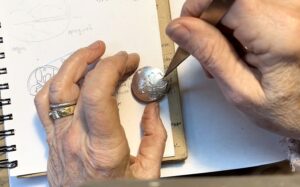 Students should bring paper, a pencil for notes, a sharpie marker, readers or optivisor are optional.
Please note *** A materials fee of $40 is due to the instructor at the time of the class.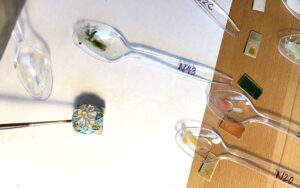 About the Instructor:
Beth deVitry is a studio artist selling her work at craft fairs and galleries on the east coast. Beth graduated from the Maryland Institute of Art with a degree in Fine Art. After 25 years as a goldsmith for a fine jewelry store, she uses her skills to design her own creations in her home studio.
Cancellation/Refund Policy
The Pennsylvania Guild of Craftsmen does not provide cash refunds for the cancellation of classes unless the class is canceled by the instructor or the Guild.
In order to request a withdrawal from a workshop, students must contact the Guild by phone at 717-431-8706 or contact us here at least 7 days prior to the class. Students who request a withdrawal at least 7 days prior to the class will receive a credit that can be used toward another workshop.
Please note that we are unable to provide refunds for missed classes due to personal scheduling conflicts. If you are sick with Covid-19 or believe that you may have been recently exposed, please email kelly@pacrafts.org.
To purchase a ticket at the member discounted rate, please login here.
Intro to Cloisonné Enamel


2022-07-09




12:00 pm - 5:00 pm
Venue Phone: 717-431-8706
Venue Website: www.pacrafts.org
Address:
335 N Queen St
,
Lancaster
,
Pennsylvania
,
17603
,
United States