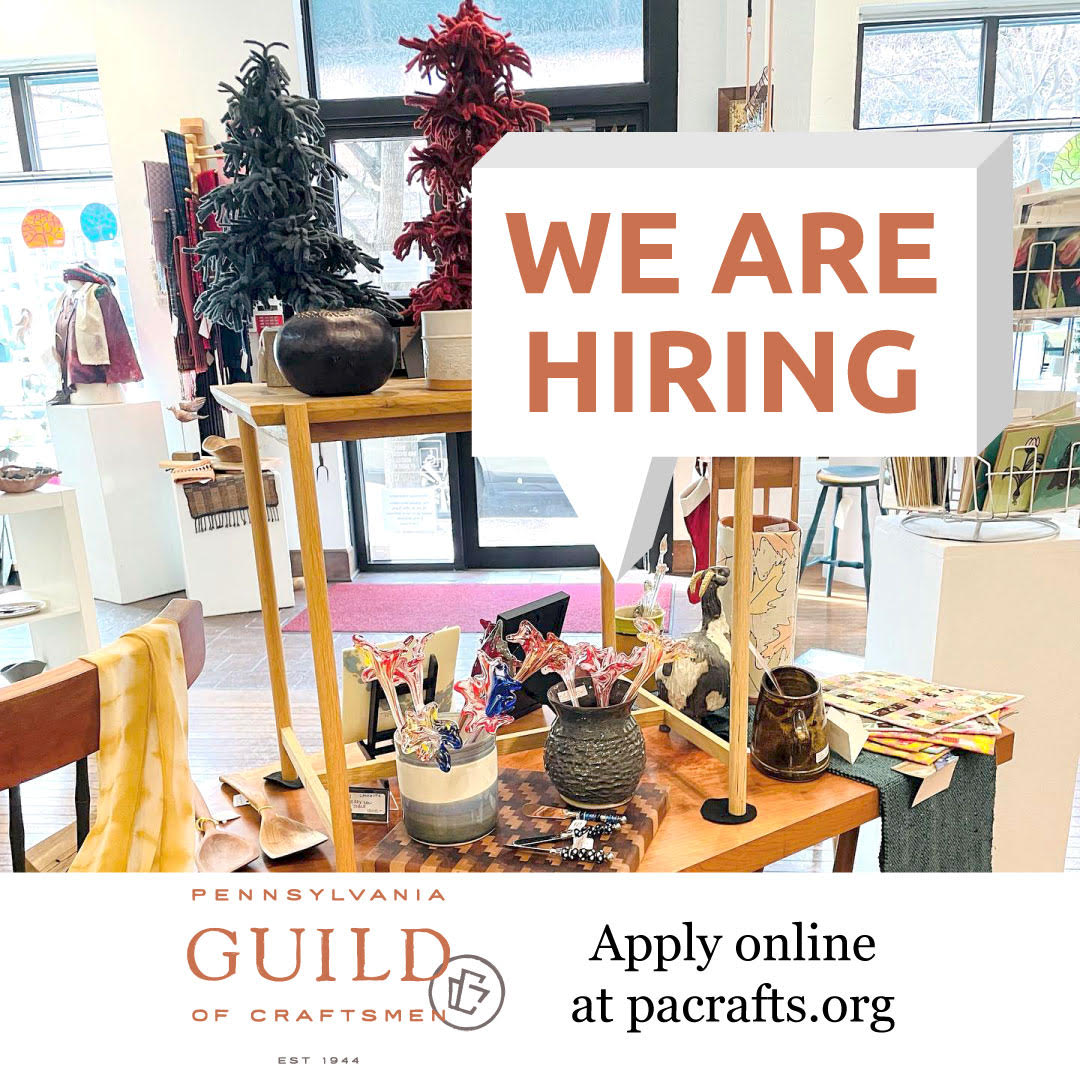 Reporting to the Executive Director the PT Associate will be responsible for our membership administration and will administer the membership database including membership renewal mailings, processing online renewals, and generating chapter membership reports. The Membership Administrator will also contact customers, prospective members, and chapter officers to resolve questions or concerns that may arise. In addition, the associate will be responsible for greeting customers, keeping the store clean and well kept, processing customer purchases, answering the phone, taking workshop registrations, and assisting the retail coordinator and office staff in a variety of activities. The ideal associate will be friendly and engaging, have excellent verbal and written communication skills and will appreciate fine craft. This position is expected to be 16-20 hours per week – Tuesdays, Wednesdays, and occasional Saturdays as needed with opportunity for additional hours during peak season, at Fine Craft Fairs, during community events, or to cover for associates who may be out sick or on vacation.

Job Title:Part-Time Membership Administration/Retail Associate
Work Location: Pennsylvania Guild of Craftsmen, 335 N. Queen Street, Lancaster, Pennsylvania
---
RESPONSIBILITIES
Responding to customer and member inquiries on the phone or via written communication
Assisting the Store Manager, Workshop Coordinator, and Executive Director as needed
Processing new memberships, updating member information, mailing renewals, and other light office duties such as creating signs, mailing, or organizing materials.
Answering member emails and questions regarding membership in the PGC • Processing membership renewals or class registrations in the store or over the phone.
Answering the phone
Greeting customers
Assisting customers in finding just the right purchase
Keeping the store clean and tidy including dusting and vacuuming as needed
Ringing customers out at the register • Packaging fragile items for safe transportation
Other duties as assigned.
REQUIREMENTS
High School Diploma or equivalent
Excellent customer service skills
Ability to stay organized.
Must be friendly, outgoing, and able to engage artists and customers.
Excellent communication skills
Ability to work well with a team.
Previous retail experience a plus
Ability to stand for up to 8 hours.
Working knowledge of Microsoft Word (including mail merge) and Excel required.
Knowledge of WordPress (website), Woo Commerce, and Event Espresso a plus.
Previous experience with Square Register a plus.
Enjoys and appreciates fine craft.
ADDITIONAL INFORMATION
This position is a part-time hourly position.
This position does require some bending and lifting of merchandise and displays.
Should be able to lift up to 40 lbs. with proper assistance.
Employment contingent upon passing a criminal background check.
The Pennsylvania Guild of Craftsmen does not discriminate in hiring, membership and provision of services with regard to race, color, sex, marital status, sexual orientation, political ideology, age, creed, religion, ancestry, national origin or presence of sensory, mental or physical disability.
The PGC's mission is to create opportunities for traditional and contemporary artisans, craft enthusiasts, and collectors through education, advocacy, and community. 
Pennsylvania Guild of Craftsmen – is the nation's 7th largest craft membership organization with approximately 1,100 members in 31states. We are a 501(c) 3 craft education nonprofit which sponsors educational opportunities and Fine Craft Fairs that reach more than 70,000 people annually. 
POSTED 5/26/2023
---
To apply, please fill out the form below and attach your resume/CV. (PDF files only.)