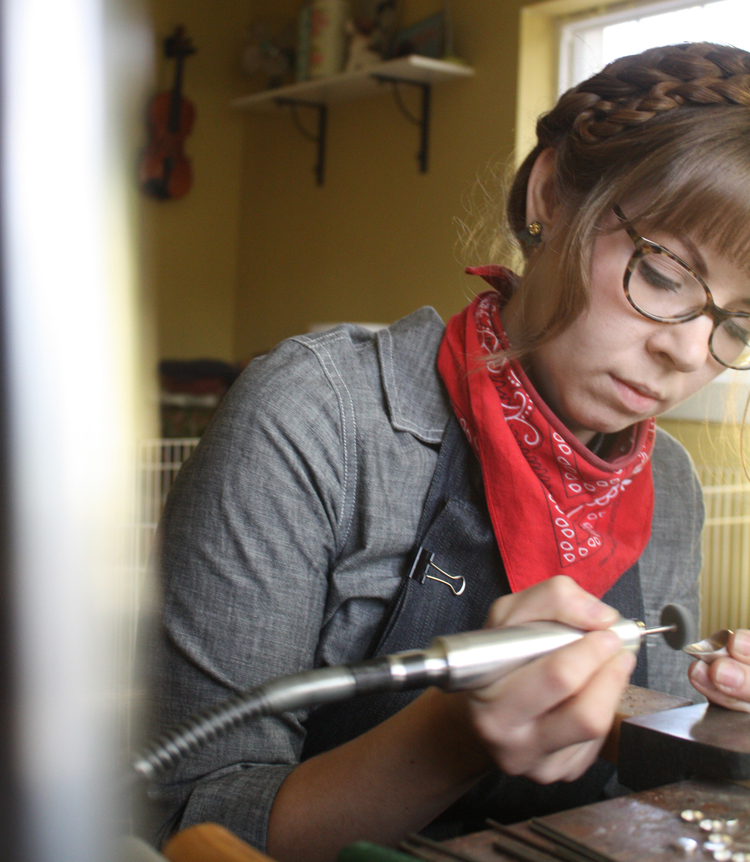 Inspired by the natural world around her, the work of Pennsylvania-based metalsmith Heather Stief is a study in the contrast of light and dark. She is fascinated by the transition from day to night, and the subtle changes that occur. To form her jewelry collection, she incorporates sterling silver, gemstones, and other found objects into shapes found in nature to create original works of wearable art with a fresh and modern perspective.
In her work, Stief strives to create a balance between hard and soft, modern and organic, contemporary and traditional. To emphasize that contrast, she often incorporates alternative materials such as rubber and found objects into her work. Stief's body of work endeavors to maintain an organic quality while still feeling modern, and aims to not simply mimic nature, but to interpret and celebrate it.
Stief's passion for jewelry design began in college where she attended Kutztown University of Pennsylvania and was exposed to all facets of a career in Fine Craft. During this time Stief received training in traditional metalsmithing fabrication techniques and took several workshops to expand her skill set. After graduating Summa Cum Laude with a Bachelor of Fine Arts with a minor in Crafts in 2007, she launched Heather Stief Jewelry. In 2013 she began exhibiting her work and was a selected participant in the Pennsylvania Guild of Craftsmen's EMERGE program for emerging artists. Stief was juried in to the Pennsylvania Guild of Craftsmen as a Master Artisan in 2015 and was awarded the Benchmark Award for Unique Voice in 2016. Stief works out of her Mount Joy, Pennsylvania studio and currently exhibits her work at fine craft fairs along the east coast.