The Pennsylvania Guild of Craftsmen offers an array of classes for adults in blacksmithing, glass, jewelry, fiber, wood, and pottery. Our workshops are accessible for everyone, with most being suitable for beginners. We strive to continually connect our Guild members and local artists to the local community through education. Join us for an afternoon or evening and learn a new skill!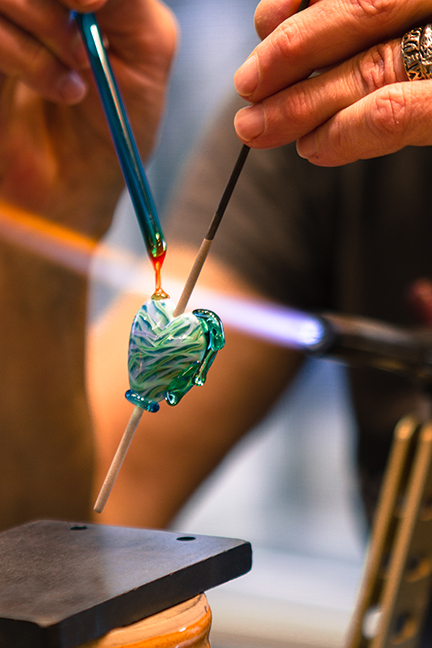 Search by Medium
---

Our Project
The Guild has installed plumbing to operate our Flame Shop safely for glass workshops. This will create more educational prospects for students and income opportunities for our instructors.
The majority of our students live in Lancaster County as well as our instructors. Our glass instructors bring their scientific knowledge of the discipline making it a true STEAM (Science Technology Engineering Art Math) project.
This studio makes possible varied educational classes including marbles, beads, ornaments, jewelry, and more, and expands our workshop offerings for learners aged 12 and up.
The flame shop installation was made possible through funding from The Steinman Foundation.
We are grateful to our sponsors: Tempchek Mechanical Services, UGI, and PNC Bank.

---
---
Making Industrial Pourers with Tim See - Day 1


2024-02-10




9:00 am - 5:00 pm

Making Industrial Pourers with Tim See - Day 2


2024-02-11




9:00 am - 5:00 pm
Instructor: Tim See Skill Level: All skill levels Join us for an entertaining and educational two-day demonstration workshop with Tim See. From inspiration and design to making and finishing, join Tim on an exploration of the oil can and other industrial forms. Covering processes like throwing creatively, spout pulling, and complicated surface treatments, nothing will Continue reading
Workshop Teachers
Tim See




I am a ceramic artist born in Syracuse, New York in 1979. I have lived in the Greater Syracuse area, commonly known as Central New York, all of my life. I began working in clay while an art student at Onondaga Community College and completed my Bachelor of Fine Arts in Ceramics with Honors at Syracuse University in 2004. My work has been shown at the Smithsonian Museum in Washington, D.C, the Everson Museum in Syracuse, NY, the Memorial Art Gallery in Rochester, NY,  and, at Baltimore Clayworks in Maryland  – as well as many other galleries and shows. The work has been recognized with awards every year since 2003. I have taught beginning, intermediate and advanced pottery to adults in a community-based ceramics studio at Clayscapes Pottery, Inc. since 2006. I also have taught children and teens at the elementary, middle and high school levels in workshops, as a visiting artist, and, in year-long after-school programs. I have really enjoyed traveling throughout the northeast engaging potters in half-day, full-day, and multi-day workshops tailored to their unique goals. As a founding member of the Independent Potters Association, I work collaboratively with fellow artists to organize and implement several charitable events each year as well as group exhibitions. I help organize group shows, an art trail, and a high school ceramics competition annually as well. Social media have provided me with many platforms to communicate with more than 11,000 potters nationally and internationally. Since 2007, I have produced 92 educational videos on pottery that have been viewed almost 2 million times and attracted more than 13,000 subscribers. My wife Brenda Pierce and I live in Bridgeport, NY with our cat Viggo.